Red Chinese Election Meddling Continues
Government reveals new alleged Chinese-backed misinformation campaign against Conservative MP Michael Chong
'Most of the activity centred on spreading false narratives about his identity,' government said in statement about social media campaign Author of the article: Ryan Tumilty Published Aug 09, 2023  •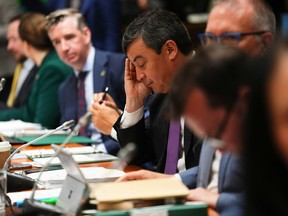 OTTAWA — Conservative MP Michael Chong has once again become a target of what the federal government suspects is a targeted misinformation campaign backed by China.
Global Affairs Canada's Rapid Response Mechanism, a program the government set up to track misinformation, identified the campaign against Chong happening on the social media app WeChat between May 4 and May 13, during recent federal byelection races. The byelections did not involve Chong directly, but his Conservative party did compete.
Global Affairs found a network of accounts spreading false or misleading information about Chong. It found a third of the accounts likely have some link to the Chinese government, while two-thirds of the accounts were anonymous and had not previously promoted news stories about Canadian politics.
The accounts also seemed to be co-ordinated, pushing the information out at roughly the same time, increasing the chance that WeChat users would see it.
"Most of the activity centred on spreading false narratives about his identity, including commentary and claims about his background, political stances and family heritage," according to a statement from the government.
Chong released a statement and said this is a troubling incident and the Liberals should be calling an inquiry into foreign interference.
"This is another serious example of the communist government in Beijing attempting to interfere in our democracy by targeting elected officials," he said.
Chong has been an outspoken critic of the Chinese communist government in Beijing. He pushed for Parliament to adopt a resolution describing the treatment of Uyghurs as a genocide. Earlier this year, it was revealed CSIS had information that the Chinese government was collecting information about Chong's family in Hong Kong, which was not initially shared with him
Chong has also said he has informed CSIS about direct threats he has received that he believes are from the Chinese government.
Chong said he appreciates the government informing him promptly this time, instead of waiting two years as it did when he was last targeted. He said the government needs to address all of these issues more quickly.
"The Trudeau government has failed to take several important actions to protect Canadians and our democracy. They have failed to introduce a foreign influence registry for those being paid to act on behalf of hostile foreign governments. They have failed to give our intelligence and law enforcement agencies the resources and tools they need to do their jobs."
Chong also advocated for the government to expel Zhao Wei, a Chinese diplomat accused of being involved in the operation targeting his family. The government eventually expelled Zhao in May, after months of calls from the opposition, including Chong, to take that step.
Chong said the government should be taking a closer look at other Chinese officials in Canada.
Stephanie Carvin, a former national security analyst with the Canadian government now a professor at Carleton University, said it's possible Chong was targeted, despite not being a candidate in the byelections because China doesn't have a good grasp of how Canadian democracy works. It could also be that this was simply a trial run by Beijing for a bigger election campaign, she said.
"We do know that states that do online foreign interference; like Russia, like Iran, like China, absolutely experiment and practice before they do larger-scale things," she said.
In its statement, the government also noted that the actions targeting Chong would appear to be a violation of WeChat's own terms of service, but it detected no indication WeChat took any steps to do anything.
WeChat was developed by a Chinese software company and is wildly popular in China where it operates under the name Weixin.