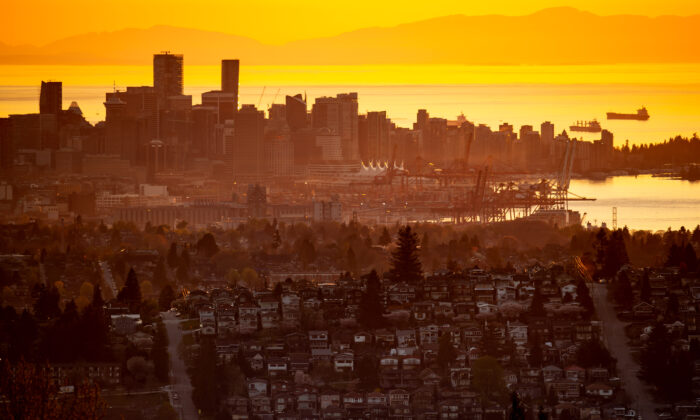 The downtown Vancouver skyline is seen at sunset, as houses line a hillside in Burnaby, B.C., on April 17, 2021. (Darryl Dyck/The Canadian Press) Canada
Canada Naive in the Face of China's Infiltration and Disinformation Campaigns: Expert
By Andrew Chen June 8, 2022 Updated: June 9, 2022 biggersmallerPrint 0:007:33
Canada has been naive about communist China its continued espionage and foreign interference campaigns, and as politicians willfully turn a blind eye to the threat, the country is also losing credibility among its democratic allies, an expert said at a panel discussion on June 7.
Sam Cooper, also an award-winning investigative journalist, said he was told by Canadian intelligence officials that Beijing had its spies collect information about him after his book, published last summer, exposed how corrupt politicians in the communist regime have been using gangs and casinos in Canada to launder dirty money made through the illicit drug trade, among other international criminal activities.
"Beijing wanted to know how the public was reacting to my book and whether it could damage the Chinese Communist Party," Cooper said during the panel discussion, held on the occasion of the launch of the second edition of his book.
The event was hosted by the Macdonald-Laurier Institute and featured panelists including Conservative MP Adam Chambers and James Cohen, executive director of Transparency International Canada, a Toronto-based global anti-corruption non-government coalition.
Cooper said he was shocked to learn that he was targeted by the Chinese Communist Party's espionage activities, but "wasn't surprised" that the regime's United Front Work Department found his book a threat.
The book, titled "Wilful Blindness: How a Network of Narcos, Tycoons, and CCP Agents Infiltrated the West," draws links between senior CCP officials and underground money-laundering suspects in British Columbia and shows how their criminal proceedings fuelled an opioid crisis in Canada while driving up real estate costs. It also reveals that Chinese state-backed companies donated hundreds of thousands of dollars to Prime Minister Justin Trudeau's family foundation.
"Every parliamentarian and regulator should have the book, should read it," said Chambers, who previously worked as a senior adviser to former finance minister Jim Flaherty.
The book also received praise on Twitter from Tory MP Garnett Genuis, who has been vocal against the CCP's human rights abuses and violations of international law.
Misinformation in Canada's 2021 Federal Election
A top priority of the CCP's foreign infiltration campaign is to eliminate dissenting voices against the authoritarian regime and its questionable conduct, particularly those in overseas Chinese communities.
Cooper said one of his sources, who managed to get into some of Vancouver's Chinese elite circles that are involved with the United Front, warned him about a CCP agent's scheme to run a donation campaign to fund a lawsuit against critics of the regime based on claims that they are racially discriminatory against Asian Canadians.
"My source told me they want to make it an influential Chinese group to lobby and pressure governments, politicians, reporters, institutions, and incite national sentiment among Chinese Canadians," Cooper said. "They want to promote lawsuits against anyone who dares to criticize China and elect more puppets into Canadian governments."
He said the warnings became a reality during Canada's 2021 federal election, when the same social media groups that had attacked him in 2020 for his previous reports on the United Front's misconduct began to "amplify disinformation operations" against Conservative candidate Kenny Chiu, who was the incumbent MP seeking re-election.
Chiu, known for his pro-Chinese democracy stance and an outspoken critic of the Chinese Communist Party, lost his seat in the B.C. riding of Steveston–Richmond East in the 2021 election. He told The Epoch Times in a previous interview that while he had been a target of misinformation before, what happened last year was "exceptional."
Through his private member's bill, Bill C-282, Chiu sought to increase political transparency by compelling those working on behalf of foreign entities to register as foreign agents. But he said that bill was "deliberately" misrepresented to mislead people in the Chinese community to believe it was against their interests.
"Chiu didn't even name China in his bill," Cooper said. "Yet he was smeared and labelled anti-Chinese."
"Any defender of Canada is an enemy of Beijing. These forces succeeded in taking Chiu out."
Cooper noted similar misinformation campaigns also targeted Alice Wong, Tory MP for Richmond Centre, Ontario. In total, the CCP interference network had targeted 12 ridings in the 2021 election, mostly in Vancouver and Toronto, he said.
Targeting Elites
Cooper said the CCP's cash-for-access influence over Western political elites, or what is known as "elite capture," as seen in Vancouver and Toronto is also carried out in other democratic societies.
He pointed to a report in early 2022 from the United Kingdom's intelligence agency MI5, which showed how a Chinese agent, Christine Ching Kui Lee, established ties with a number of British parliamentarians on behalf of the CCP through political donations.
However, unlike the MI5, Canadian intelligence agencies cannot make public alerts about infiltration from foreign agents from China, Russia, and Iran, due to the country's "strict privacy laws and the mysterious political shackles that Canadian intelligence operates under," even when the Canadian Security Intelligence Service has incredible intelligence showing the CCP's United Front has targeted Trudeau and politicians in all Canadian parties, Cooper said.
"This isn't a failure of the agency's task with gathering intelligence. They ultimately report to their political masters. And if those political masters don't want to heed the blaring alarms, the agencies have little recourse—reports will be buried, … and ultimately the intelligence agencies will stop producing these reports altogether," Cooper said, citing an intelligence source.
"Bureaucrats don't want to end their careers by delivering unwanted medicine to uncooperative patients."
He said that according to Chiu, in Greater Vancouver, with its "three-dimensional control" of political candidates, culture, and businesses, China has gained sway over even the traditional pillars of society.
"People that are supposed to speak the truth, China has brought them down to their knees," Cooper said.
As for politicians in Ottawa, they have been "naive at best about the threat China poses," and many parliamentarians are near-sighted, focusing on microscopic concerns, while still others who do see the big picture "enrich themselves through sweet insider deals with Beijing," he said, citing Chiu and his intelligence sources.
"Canada is faltering as a middle power," Cooper said. "The nation isn't taken seriously in the Five Eyes anymore. Canada isn't a leader in the growing battle between democracy and authoritarianism."
Issac Teo contributed to this article.